Best Resorts Near Lansdowne Uttarakhand
Route to Kasang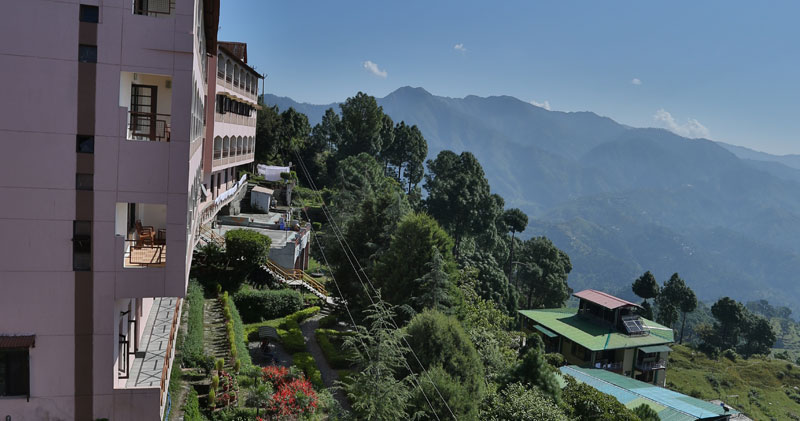 Reaching Kasang Lansdowne is the nearest hill station from Delhi just 250 kms , 95 km from Haridwar and 150 km from Dehradun. Best way to reach Lansdowne is by road. The Road route from Delhi has been given below.
If you opt for Rail Route, the nearest railhead for Lansdowne is Kotdwar, which is well connected by buses and jeeps. There is no dearth of private taxis to cover the 41-km distance between Kotdwar and Lansdowne. Kotdwar is a gateway to the hills and one of the last railway stations for Garhwal.
Route From Delhi : You can choose the route as per your location in Delhi.
Route No.1
Delhi...Modi Nagar....Meerut ...Mawana Road...Bhesuma... Mirapur....after Crossing Mirapur take a right for Bijnor ( after taking right on your left would be Monty Millions Restaurant )... ... Bijnor.......Nazibabad ....... Kotdwar....Dugadda......After 2.5 kms take a Right for Lansdowne another 15 km from there you will reach our resort Kasang Regency (is 6.5 kms short of Lansdowne on the main road itself on your right).
Route No.2
Delhi...Ghazipur...Hapur....Take left for Merrut.... then a right to reach Merrut Shastri Nagar.........left for Merrut university Road.....right from roundabout for Mawana road..... Bhesuma.......Mirapur....after crossing Mirapur take a right for Bijnor( just after taking right stop for a halt if required at monty millions)..... Kotdwar....Dugadda......another 2.5kms take ar right for Lansdowne another 15kms from there you will reach our resort Kasang Regency (is 6.5 kms short of Lansdowne on the main road itself towards your right)
Route No 3
Delhi...Modi Nagar....Meerut ByePass.. just before reaching Khatauli take a right for entering Khatauli City ( on your left would be Cheetal Grand Cafe ).....Jansath.....Mirapur ( on your left would be Monty Millions Restaurant )... take a left for Bijnor..... Nazibabad......Kotdwar....Dugadda......another 2.5kms take ar right for Lansdowne another 15kms from there you will reach our resort Kasang Regency (is 6.5 kms short of Lansdowne on the main road itself towards your right)